Stormy Skies and First Look Butterflies
Nicole "Coley" Cook - Coley Cook Photography - www.ColeyCookPhotography.com - ColeyCookPhotography@gmail.com - Instagram.com/ColeyCookPhotography
Want an epic location and look that you can't get really anywhere else? Did you know that we have one such place about 1.5 hours from Salt Lake City? Hint: There are some Jack Sparrow scenes filmed out there! Yay Pirates of the Caribbean!
You are correct! The Bonneville Salt Flats are soooooo rad! We wanted an epic location for Zach and Adri's first look session, and I don't think we could have picked a better place. As we were driving, the clouds got darker and the wind got stronger, but did we get scared?? Well.. maybe a little…. but did Adri and Zach panic even a little? Nope!! Well, they didn't say anything at least, haha!
The windy skies turned Adri into a GODDESS! She embraced the wind and made it hers. The clouds got darker and even more billowy in the sky. Not another soul dared venture to the flats and we had this vast, sparkling salt kingdom to ourselves! Not even tourists thought they would like to trek out and visit.
Their first look made all of us giggle with all the feels. Zach turned around, his hands went immediately to his face, and he yelled out to Adri, "You look soooo pretty!!" After the session I had him recap his thoughts about his first look at his beautiful bride with me. He told me, "You know, she has two smiles. She has her regular smile which is always bright and beautiful, but she has this other smile, too. I've only seen it about four times. It's her smile when she's, like, blissfully happy. That's the smile she wore when I turned around and saw her, and I couldn't help it. She seriously just looked so beautiful." Ummm, marry that guy!
Check out this session. You will not be disappointed! The salt flats were showing off for us! Oh! PSA - The salt is sharp! Take sandals or some shoes that can get wet and possibly ruined when you go, because going barefoot for long distances is pretty miserable! Buy a cheap pair of flip flops at Old Navy at least. Also, take baby wipes to wipe off the majority of the salt afterwards and lotion for your hands and legs after. That salt dries you right out and it's a pretty itchy 2 hours back without it. You will thank me later!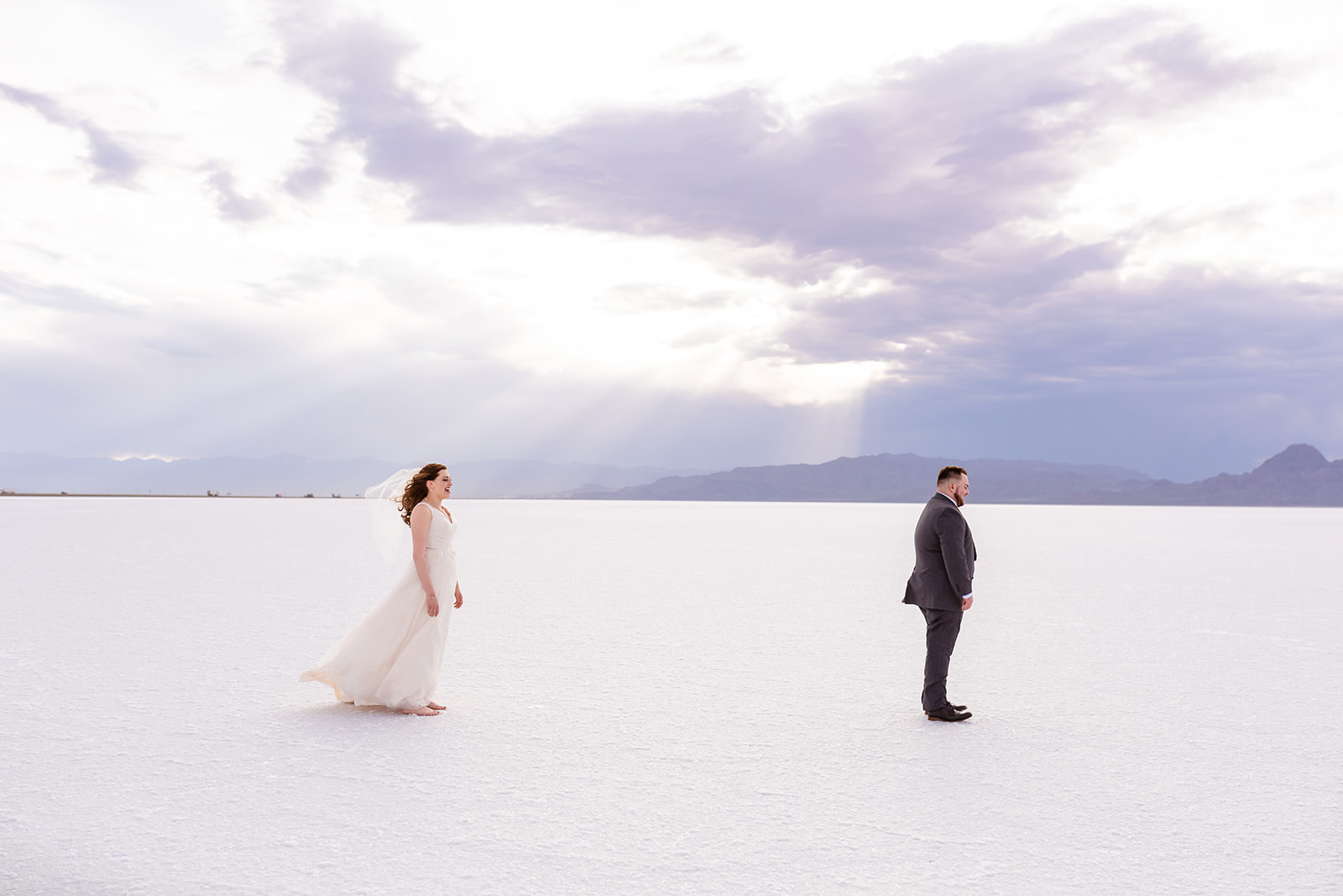 ..Dun dun dun duuun duuun dun duun duun dun dun…
And with that walk off note - we're outta here! Adventure hard, enjoy life, and remember to be yourself! You're the only one that can after all! Come adventure with me to all the fun places in the world! The Salt Flats included! Can't wait for your wedding in 2 weeks Adri and Zach! We're going to have the friggin' best time ever!